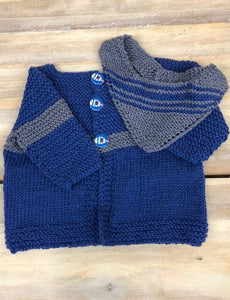 Loving Hands
Loving Hands Knitted Sweater & Bib Set #6
Size 3-6 Month
Hand knitted by local artist Joan Lorenz of 70% Tanguis Cotton/30% linen.
Gift boxed  
Why Tanguis Cotton?
One of the finest fibers in the world
Incredibly soft
Breathable - absorbs and releases perspiration quickly
Environmentally friendly - harvested six times a year, requiring less water then other cottons
Developed in 1911 by Fermin Tanguis, a Puerto Rican agriculturalist. Tanguis Cotton saved the Peruvian cotton industry. Grown on the Central Coast of Peru, it accounts for 75% of Peru's cotton production.
Machine wash. Dry low heat.
---
More from this collection